An ardent determination to preserve the integrity and longevity of the antique jewelry trade is a defining characteristic of Ireland-based Las Vegas Antique Jewelry and Watch Show dealer, Matthew Weldon. While he certainly appreciates the intrinsic value of the pieces he procures and sells, it is the stories inherent in the work that he values most, and it is in telling these stories that his passion for his trade really shines. It was an absolute joy to sit down with Matthew, remotely, from his shop in Dublin, for a brief conversation about all things antique jewelry. Rather than detracting from the gravitas of his overarching philosophy, the enthusiasm he showcases when talking about particular pieces is palpable and enhances the strong sense of protectiveness he expresses for safeguarding the antique jewelry trade.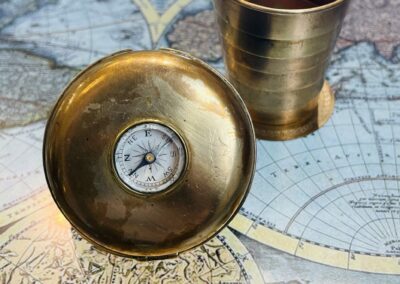 Antique Compass and Collapsable Cup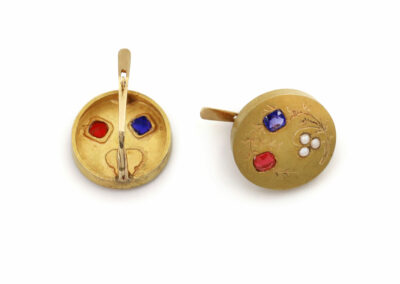 Ruby Sapphire and Pearl Earrings
U.S. Antique Shows: Tell me more about what you're excited to bring to the Las Vegas Antique Jewelry and Watch Show. How do you decide what makes the cut?
Matthew Weldon: As a European dealer, what we procure is Edwardian and Victorian jewelry and that's what we bring into America. We make sure that all of the pieces we bring are completely imported into the U.S. and in free circulation so a buyer can walk away with their purchases. This is only possible to do with items that are at least 100 years of age or older, and customs does check; they are quite strict about adhering to this rule.
USAS: Do they have jewelry experts on hand at customs? How do they know that you're providing accurate information?
MW: I can only tell you anecdotally that if something poses a question mark, or if you include something like coral which we are not allowed to ship, then you are on their radar, and they go through every piece that is numbered and listed in your shipment to make sure everything is compliant. From a buyer's perspective in the Vegas show, it's a natural check.
USAS: When we first met, at the Original Miami Beach Antique Show in January, you mentioned that you'll sometimes be visited by stone dealers that are more interested in breaking up pieces for the value of their stones rather than the piece itself, and that you're really averse to this practice. Can you elaborate?
MW: Antique jewelry really has the best stones. I mean, if you think of a mine, naturally they mine the best stones first, and the secondary deposits are what goes onto the market when the superior stuff is gone. Stone dealers will often look at antique jewelry to find Burmese rubies, Kashmir sapphires and Colombian emeralds and some do want to buy pieces with the intention of breaking them apart. But antique jewelry isn't just a holder for stones; there's a point when jewelry becomes more than its intrinsic parts, that's when it becomes real jewelry, it's not just a holder for a rock.
While I recognize that some dealers may opt to sell pieces knowing the buyer's intention is to dismantle it, a "breaker," I think that's short sighted. The bigger picture is the longevity of the trade and making it sustainable forever, and there's only so many of these antique pieces. I really want to sell to someone who is going to give the pieces a new home or find them a new home with their clients. My heart sinks a little to think of a piece being dismantled because once its broken you can't get it back, and that's when other less desirable pieces fill the void. Doing that ultimately diminishes the supply of jewelry that's already so hard to find. I used to sit in the shop and have people just bring me jewelry, and now it's not like that. Supply of nice jewelry at good prices is key, and so I hate to think of anyone taking away from the supply of the pieces.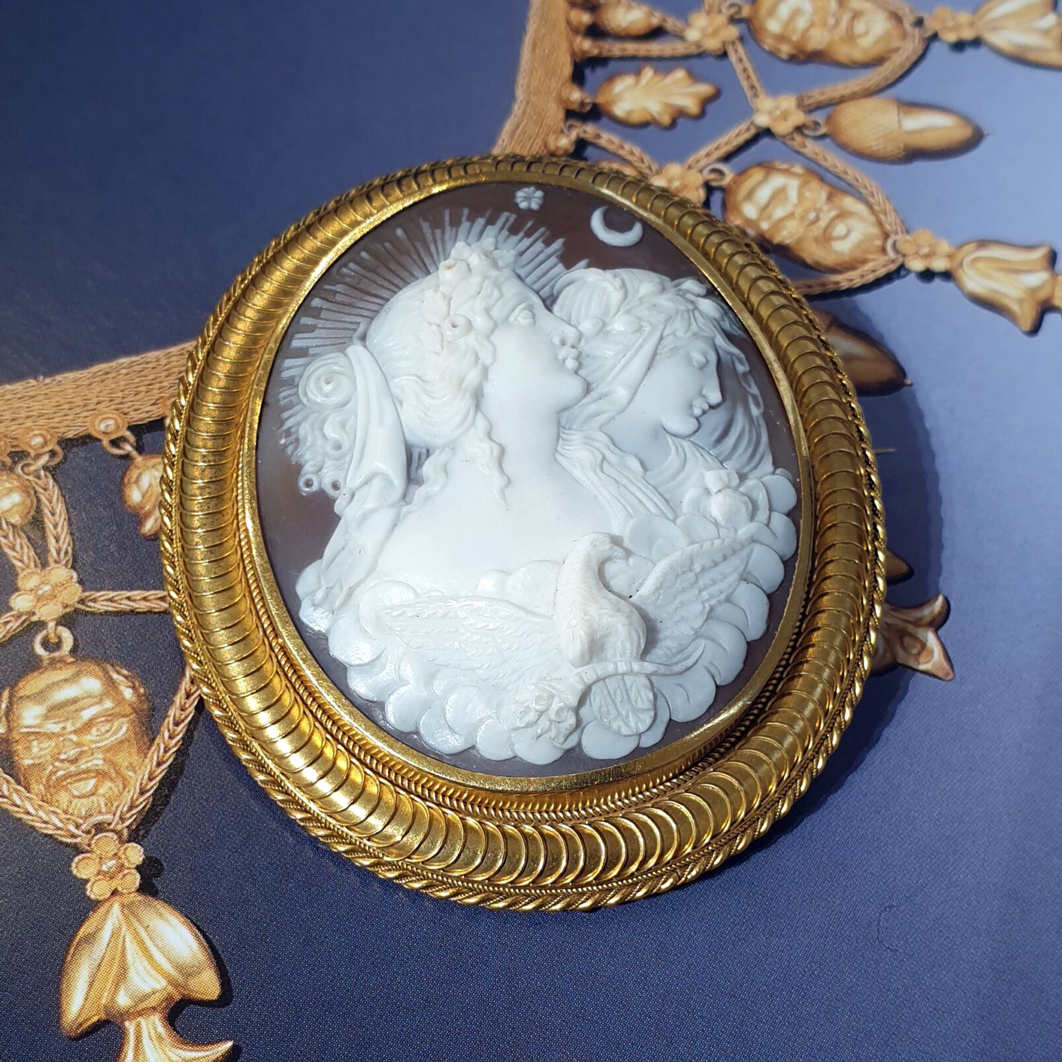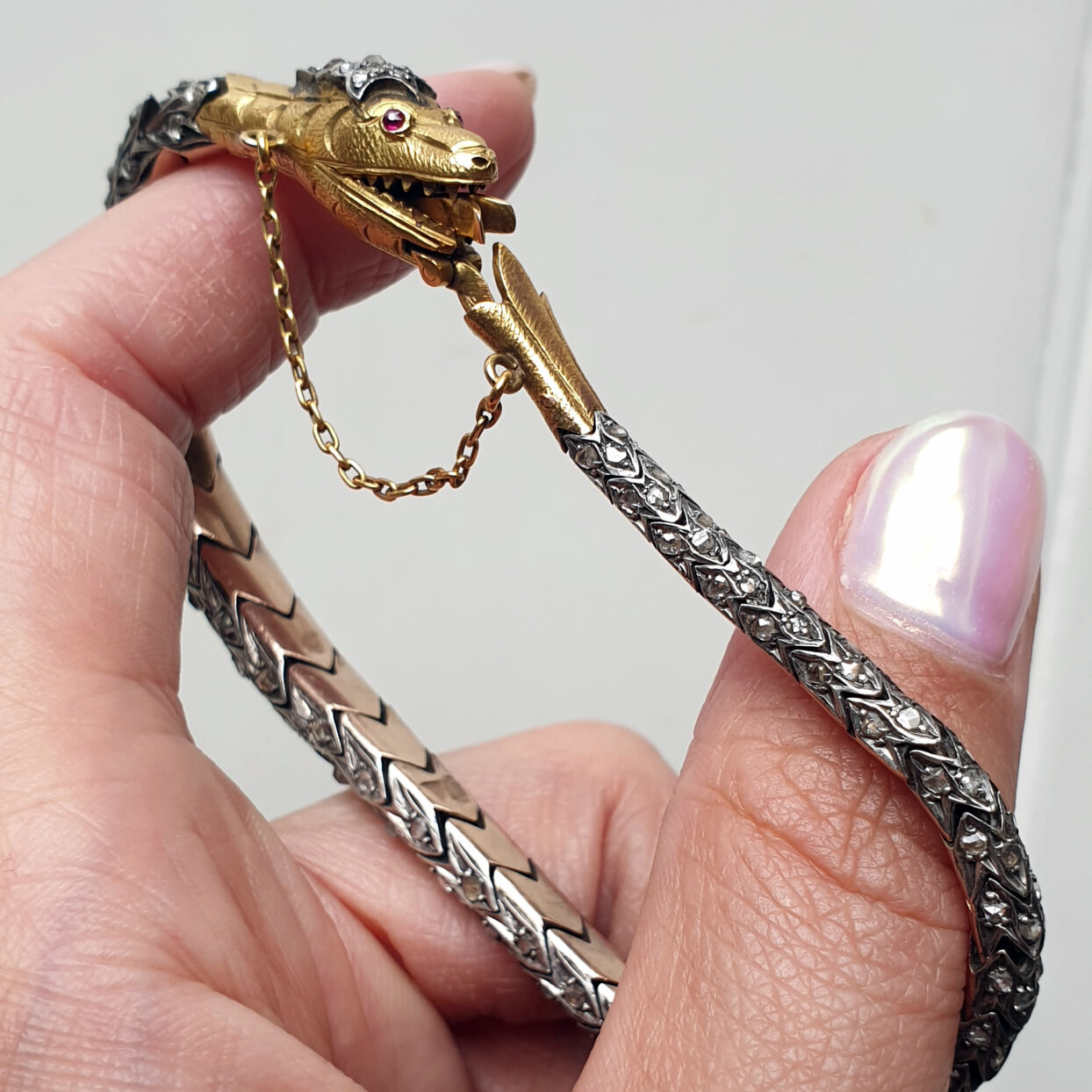 French Antique Snake Bracelet
USAS: Speaking of pieces, let's talk about a few of the pieces you're going to be bringing to Vegas!
MW: This Victorian shell cameo brooch depicts the goddesses Tykhe and Nemesis in yellow gold. An oval shell cameo intricately carved with the classical profiles of two goddesses with curling ringlets, one with a radiating halo whilst the other is veiled, above them the crescent moon shines and in front of them a dove with wings spread clutching a cornucopia, all to a decorative domed border featuring rope twists and scalloped details, fitted to the reverse with a hinged pin and secure C-scroll closure.
I always liked Nemesis, especially as she was the goddess of fair distribution, so no unpunished evil deed or inordinate luck went unnoticed! So in a way it makes sense she hangs out with the goddess of fortune, chance, providence and fate (Tykhe). A good balancing act. What is so fascinating about this piece, and with a lot of cameos, is that when you break down what you are looking at it tells you an entire story.
All serpent jewelry from this time was inspired by Queen Victoria's engagement ring, which was an emerald and diamond serpent that went missing when she passed away. While there's lots of speculation about where it is (possibly its buried with her), nobody actually knows where it is! This serpent bracelet is French, circa 1870's, and is really beautiful with really fine detail; this for sure will not be coming home with us from Vegas!
This item is a very quirky little thing which is actually brass, but it is a super cool antique object. A compass and collapsible cup. So a compass to direct you to the bar and a cup in case you can't find it. (As an Irishman, never a problem I have had!)
These earrings are super special, you can see the sapphire, ruby and the pearls make up part of the design.
This sleeve brooch, which you can see in this TikTok I did, is ideal for a dressmaker or seamstress. It opens out to reveal some gold pins, and places neatly on the arm, so you can have your pins to hand.
USAS: Wow! I'm so mesmerized not only by these stories, but how sophisticated the craftsmanship is in all of these pieces!
MW: Consider the fact that in Paris in the 1930's there were 3,500 workshops. Today there's about 300. Jewelry today can pretty much be summarized by necklaces, pendants, earrings, rings, bracelets, watches and cuff links. Back then, you had those categories but also shoulder jewelry, hair ornaments, stomachers and pins to close your gloves; there were a lot of artisans with a lot of specialties in several categories that simply no longer exist. While we now have laser machines and all kinds of other state-of-the-art technology, the craft and the know how has unfortunately diminished greatly.