The Victorian Era, which took place during the reign of Queen Alexandrina Victoria from 1837-1901, had influences on every aspect of British arts and culture. While we may think Kate and Meghan have clout, they've got nothing on Queen Victoria's ability to impact the popularity of clothing, furniture and, of course, jewelry, among the entirety of British society. The weight of her reign was such that the three distinct periods of the era directly reflect the vast changes that occurred in Queen Victoria's personal life.
The Romantic period was soaked with tradition and marked by the prolific love of Queen Victoria and Prince Albert. Jewelry produced in this time showcased religious themes or was given as a token of love from one lover to another. Serpents were extremely popular during the romantic period; Queen Victoria evidentially loved serpents, and the gold, coiled snake engagement ring she received from her beloved was among many serpents in her jewelry box and symbolized everlasting love. This was also the period within the era that saw the introduction of Acrostic pieces, wherein the first letters of gemstones spelled out sentimental messages. For example, D(iamond), E(merald), A(methyst), R(uby), E(emerald), S(apphire), T(opaz) would be set together in a piece to indicate DEAREST.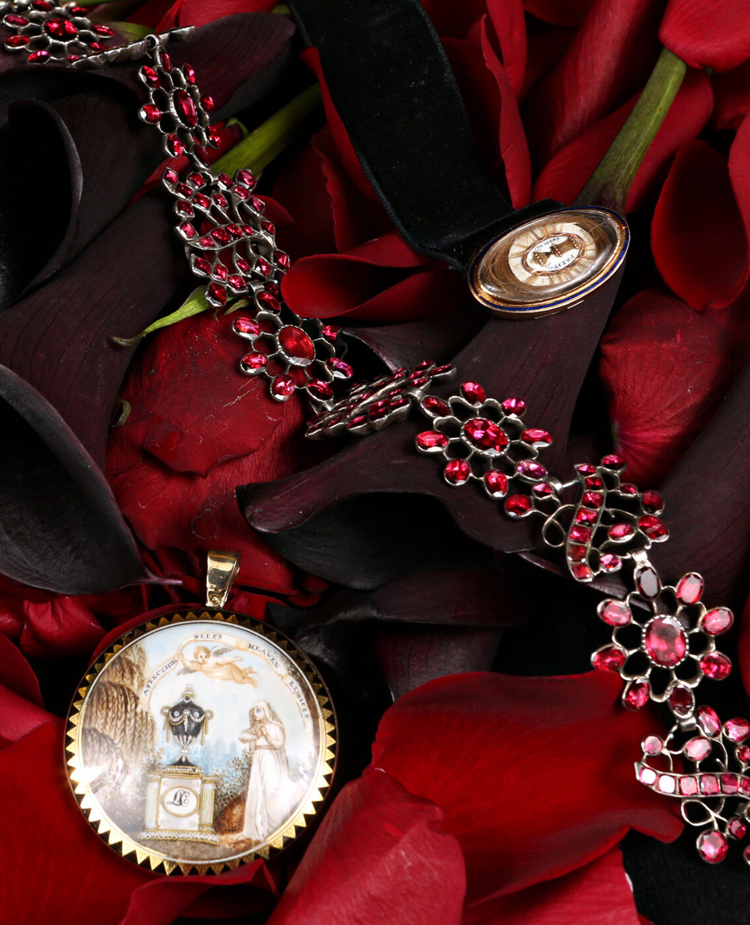 Following Prince Albert's death, society entered the Mourning period and somber yet dramatic pieces like detailed hair work were commonplace. Jewelry made with Jet, a dark black gemstone, also became popular during this time, along with pieces depicting weeping willows, angels, clouds and initials. When mourning was over, Late Victorian aesthetic jewelry welcomed the return of natural, floral and celestial designs.