In celebration of the 50th anniversary of Hip Hop, Sotheby's this week is holding its third Hip Hop sale, July 18-July 25. Featuring iconic pieces and memorabilia that represent pivotal moments from the late 1970's through the present, the curation is a reflection of the people and events that defined Hip Hop culture. The crown jewel of the upcoming sale is a ruby and diamond crown ring that represents a personal metamorphosis and metaphorical self-coronation of Hip Hop great, Tupac Shakur.
Designed by Shakur, who created and performed under the name 2Pac and later Makavelli, the diamond and ruby ring, which is estimated to garner up to $300,000, was commissioned following Shakur's release from prison and was intended to illustrate his personal and professional transformation. With a major new record deal on the books, and several philanthropic endeavors on the horizon, Shakur was entering a new phase of his life, and he wanted to punctuate the shift with a major piece of jewelry.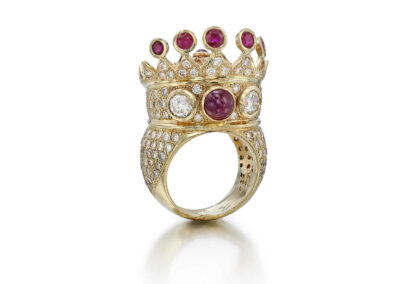 Image Courtesy of Sotheby's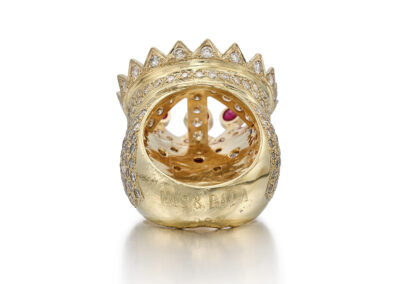 Image Courtesy of Sotheby's
The artist entrusted his most beloved ally, godmother, advisor, "auntie," money manager and life-long supporter, Yaasmyn Fula, with bringing his vision to life. Liaising with New York City jewelers, Fula shepherded the project through the development and fabrication process, flying back and forth to NYC and later presenting the finished piece to Shakur who was "blown away" seeing the tangible output of his creativity. Shakur was seen wearing the ring during the 1996 MTV Video Music Awards (VMA's), his last public appearance before his death in Las Vegas just weeks later.
In a video released by the auction house, Fula states, "Tupac thought of himself and his creativity as a tool for expressing injustice and love. That message has been carried on with a lot of artists to this day that give him acknowledgement and say how much he inspired them. That ring is a powerful symbol; whoever wore that ring had to accept that they had the responsibility to have an impact on the world."
During his incarceration, the artist studied The Prince by Machiavelli, and he quickly became a proselytizer of the Italian statesman's manifesto, so the choice of a crown design and the inclusion of rubies, with their associations with royalty, was deliberate and significant. The piece is also inscribed with "Pac and Dada 1996" in honor of his then-recent engagement to Kidada Jones. "The ring was his way of acknowledging that he was, in fact, a prince with a plan," Fula explains of Shakur's embrace of Machiavelli's philosophy. "Pac was also a romanticist. He had accepted this role of saving a generation and with that came a lot of pain and sorrow for him, and I think he realized that nobody was gonna come to him and pronounce him their savior, their messiah, their representative so he was claiming the role himself."