While relatively unknown in the United States until recently, María Félix (1914-2002) was considered a goddess of Spanish language cinema. La Doña, as she was nicknamed, was a legend of Mexican Golden Age film with a career in the limelight that began in the 1940's and spanned 47 films and several television projects, making her an emblematic figure of Mexican cinema. She purposely never learned to speak English, flouting Hollywood so that she wouldn't be typecast and instead pursuing her own path towards stardom. She did, however, learn to speak French and she went on to star in several French productions which resulted in her wide-spread popularity throughout Europe.
Beyond her acting career, María was well known for her vibrant romantic life (she was married 4 times and was rumored to have had affairs with several well-known figures including the artist Diego Rivera), her stunning beauty, her independent spirit and, maybe most importantly (at least to us), her incredible jewelry collection. We have always touted jewelry's unique ability to serve as an expression of one's personality, moods and emotions, and applying that logic to La Doña's taste in jewelry beautifully solidifies the concept.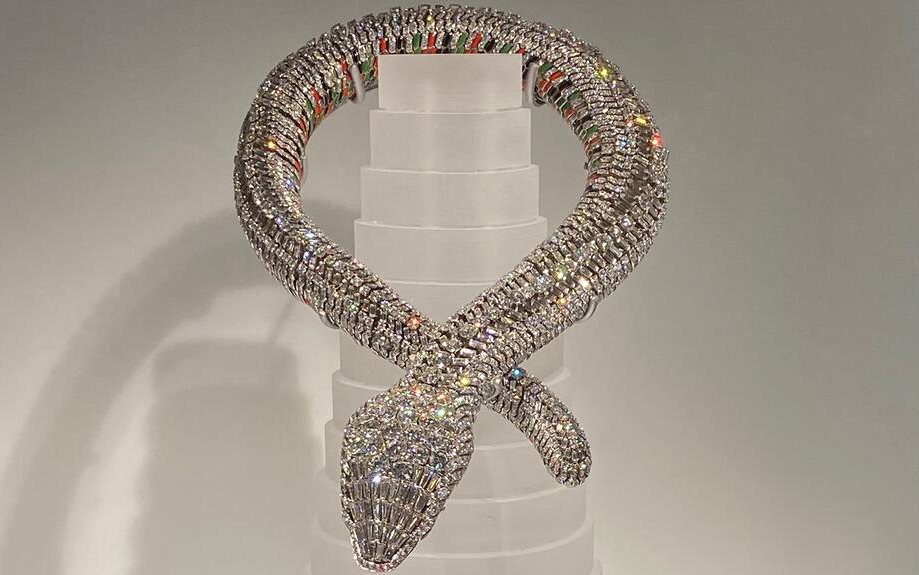 Image courtesy of Michelle Graff/National Jeweler
While she had many classic pieces in her collection that she was often seen wearing, including a strand of South Sea pearls and matching earrings, she had a well-known penchant for more daring jewels. Her most lauded jewels were commissioned from French maison, Cartier, three of which were on display in the American Museum of Natural History's phenomenal "Beautiful Creatures" exhibit (June 2021-September 2021), curated by the inimitable jewelry historian, Marion Fasel.
In the mid-1960's, Félix, already an established customer of Cartier, visited the house to commission a large snake necklace. The resulting piece, a fully flexible 22-inch platinum and gold necklace, took 2 years to create and features 2,473 brilliant and baguette-cut diamonds totaling 178.21 carats. The red, black and green enamel on the interior of the piece pays homage to the actress's Mexican heritage and the serpent's emerald eyes enhance the verisimilitude of the piece. A few years later, La Doña commissioned an extravagant pair of snake earrings from Cartier. Crafted in 18k gold, the scales of the snakes' heads and tails are covered with turquoise colored enamel and the eyes are composed of rubies and diamonds.
As legend has it, in 1975 Félix again visited Cartier, this time carrying with her live baby crocodiles, ensuring the designers could see the seriousness of her intentions to commission a piece of jewelry based on their likeness. What she received was a feat of both design and craftsmanship—two crocodile sculptures that connect at their tails with one's snout resting on the other's neck. One of the creatures is covered in 1,060 emeralds (66.86tcw) and the other features 1,023 fancy intense yellow diamonds (60.02tcw). And of course, all details were taken into consideration, such as the ruby eyes on the emerald crocodile and the emerald eyes on the diamond crocodile. Perhaps as a reflection of her active lifestyle, the piece comes apart and can be worn as two brooches.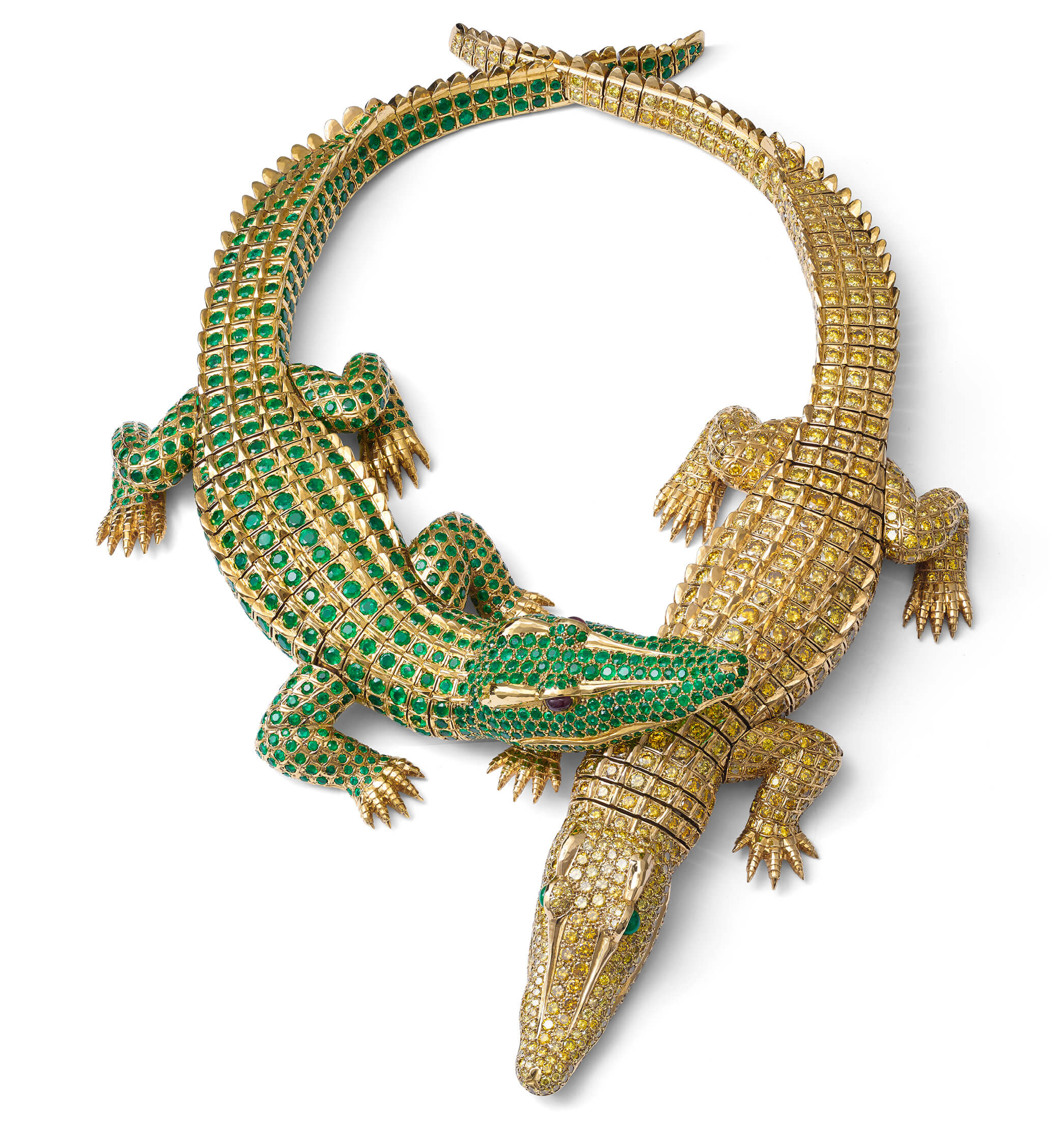 (Credit: Nils Herrmann, Cartier Collection © Cartier)
If you were lucky enough to visit the "Beautiful Creatures" exhibit, I'm certain the above three pieces live in your memory as vividly as they do in mine. And, like me, you have since gone down a rabbit hole of research to learn more about this enigmatic actor's life. No matter what, I'm sure you'll join me in the sentiment that whatever battles she went through and hardships she faced, we applaud María Félix for forging her own way and we humbly thank her for bringing so much beauty, taste and style into the world.