Each month, we try to highlight a different genre or era of jewelry that can be discovered at our events. We often focus on museum-worthy pieces like the Van Cleef & Arpels
"Zip" necklace
, or some of the incredible,
bespoke commissions
of Mexican film star and jewelry aficionado, María Félix; it's a thrill digging into the history and provenance of important jewelry! Yet, ultimately, jewelry is intended to be worn, and the biggest thrill can be finding a piece that is the perfect embodiment of one's individual style. The piece that prompts you to tell a trusted dealer, "No need to wrap it up, I'll wear it out!"
From a new Hermès Clic Clac to add to an already impressive wrist stack to perennially popular Disco vibe jewelry to a Chanel necklace that doubles as a chic belt, the upcoming Original Miami Beach Antique Show (OMBAS) is a destination event for finding pieces that feel very now and can also be passed down and cherished for generations to come.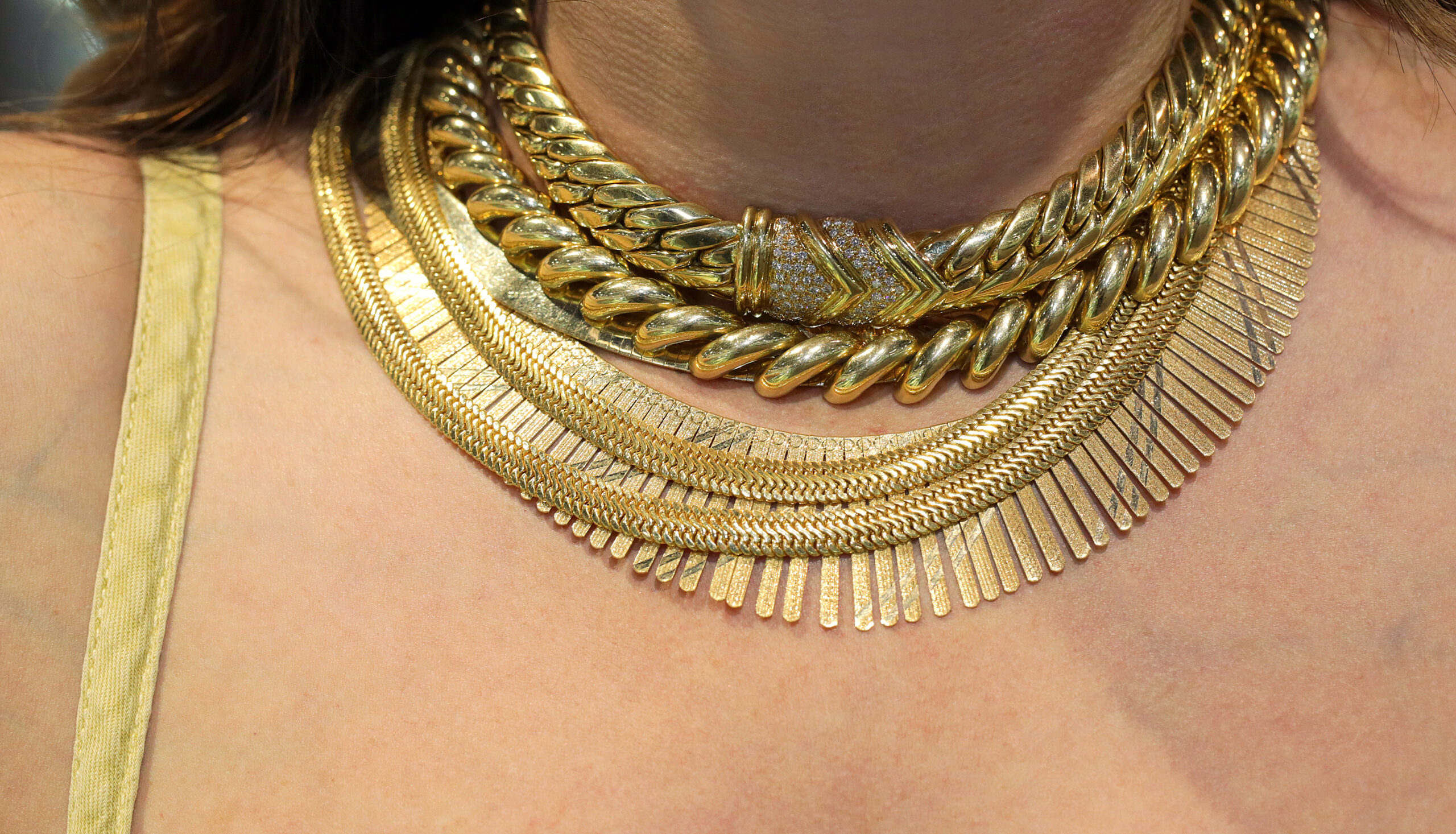 Burn Baby, Burn: 
While some of its choicest fashion moments have not stood the test of time, many of the looks associated with 1970's fashion have been so ubiquitous in the decades that followed that they are now considered classics. You can never go wrong with a fabulous yellow gold chain to make a bold statement and channel your inner Disco Queen. With the variety of links and lengths available, gold chains are also a great way to express one's personality, and dealers like Laurie Geller from Geller & Co. always have a wide range of hand-selected options procured from across the globe.
Chainmail was originally invented in medieval times as a form of body armor, and semblances of the technique have long been applied to jewelry. In the 1920's, Whiting & Davis made their mark on the fashion world with chainmail handbags, re-emerging in the 1970's through the 1990's with everything from handbags to tops to dresses. A sleek, chainmail necklace and matching bracelet are sure-to-be-conversation starters and can turn the most understated choice of clothing into a remarkable ensemble.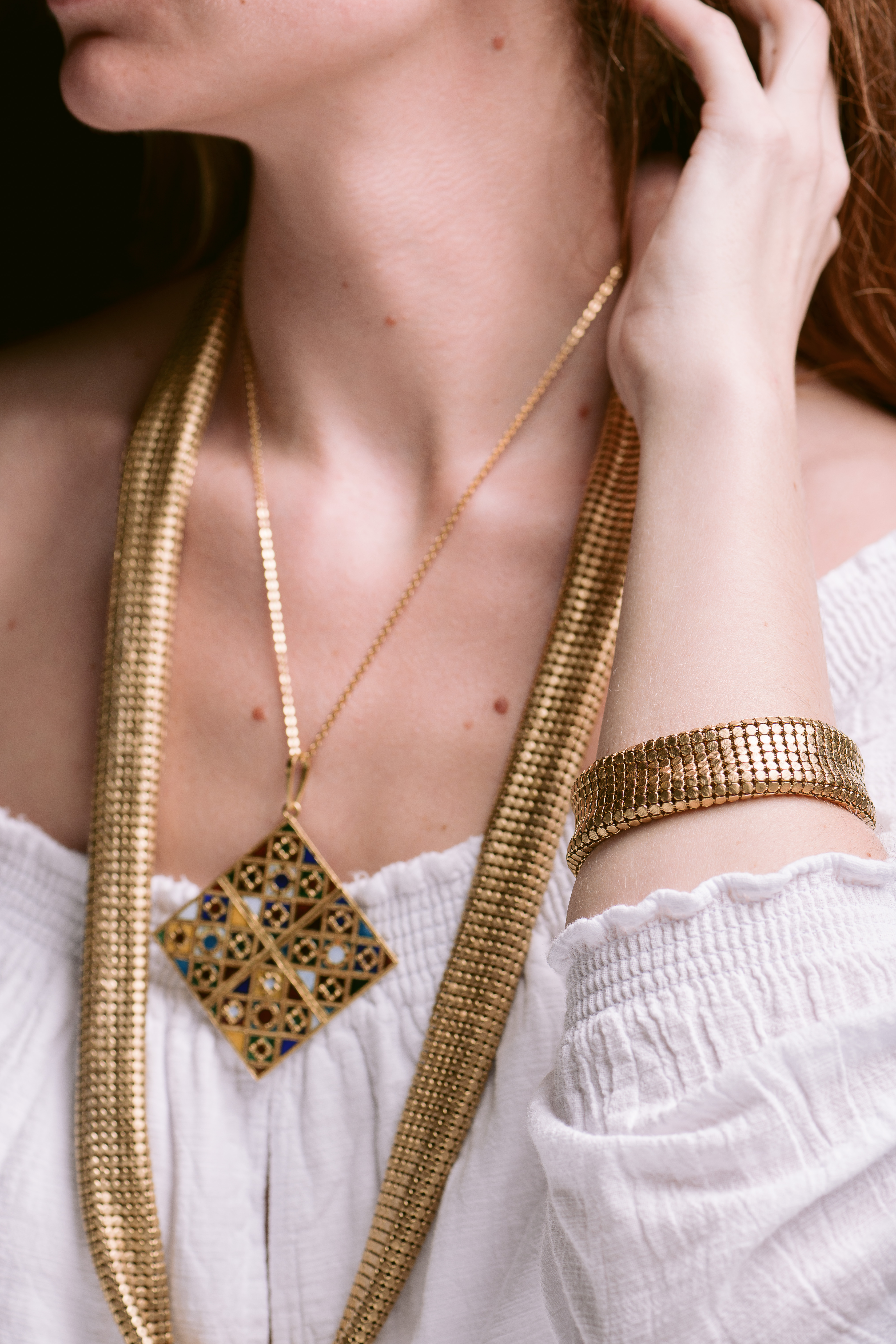 Chainmail necklace and bracelet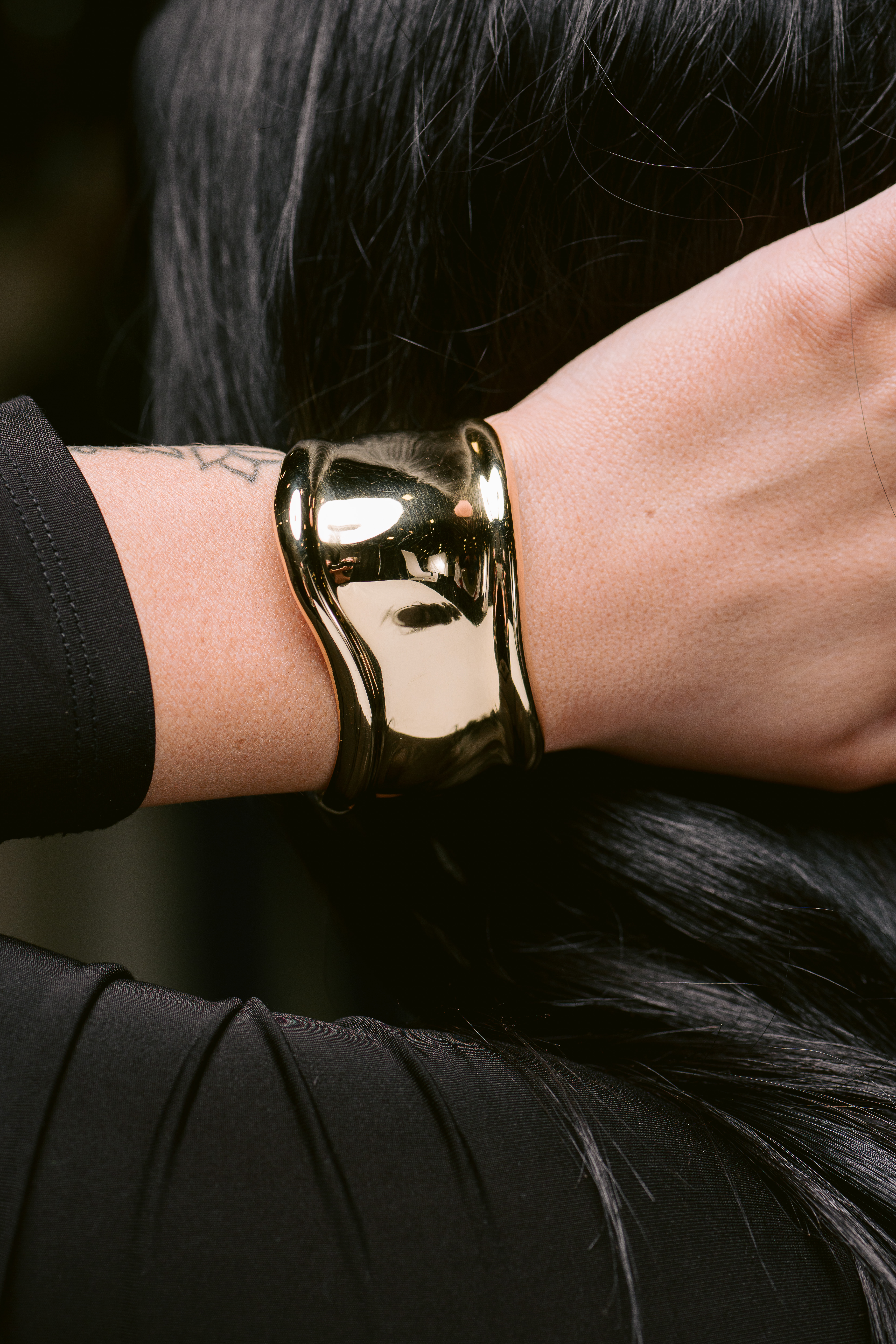 Elsa Peretti for Tiffany & Co. Bone Cuff
Faux Fun: 
While Coco Channel may have famously said, "Before you leave the house, look in the mirror and take one thing off," she clearly wasn't talking about her accessories! From perpetually covetable handbags to lengthy ropes of faux pearls and charms that can be styled as a chain or a belt, Channel is always in style. And while we love our precious metals and gemstones, there's nothing in the world wrong with rocking some demi-fine from time to time. And yes, we'll wear it out…